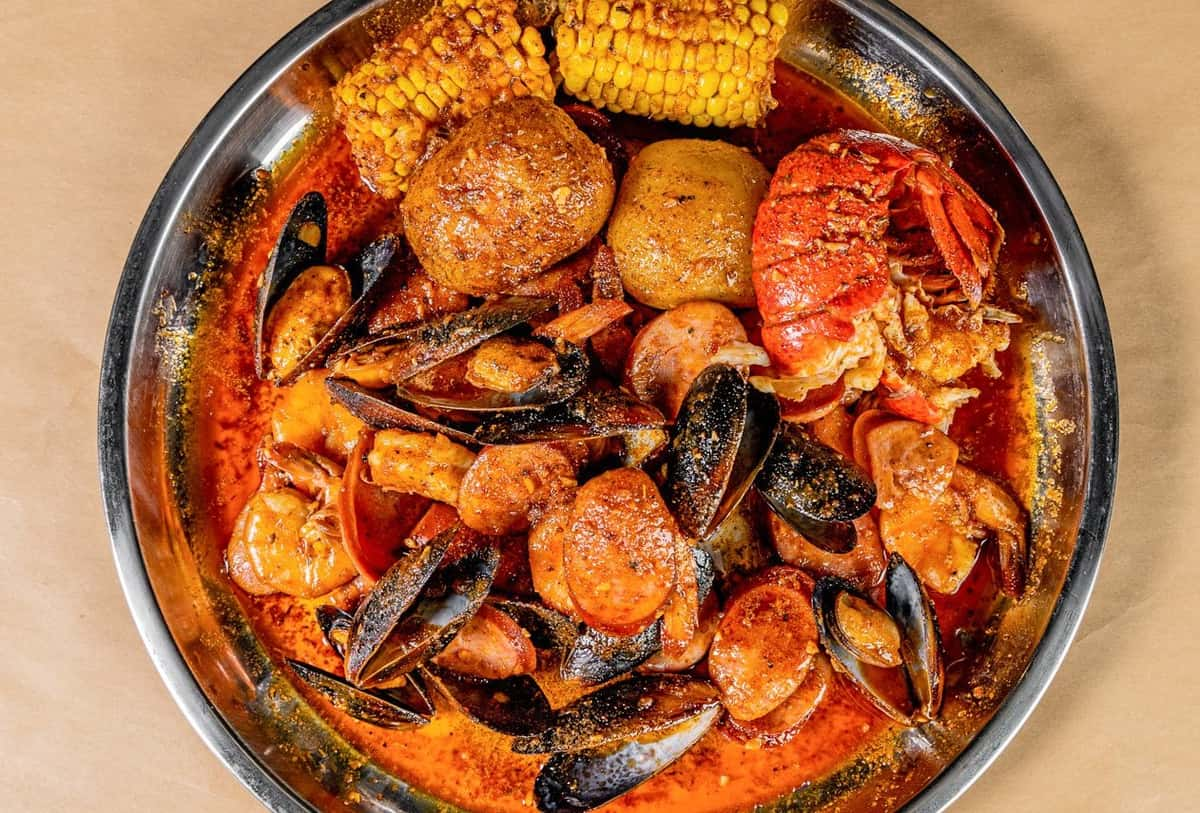 FAQs
What kind of food do you serve?
The Twisted Crab is a seafood restaurant and bar that specializes in serving Cajun style seafood and a variety of refreshing beverages. With a lively and fun atmosphere, the restaurant provides a unique dining experience for its patrons. The Twisted Crab offers an extensive menu featuring seafood classics such as crab legs, shrimp, oysters, and lobsters. The establishment also offers a full bar with a wide selection of beers, wines, and cocktails to complement your meal. Committed to providing great food, excellent service, and a memorable dining experience, The Twisted Crab is a must-visit destination for seafood lovers.
What is a seafood boil bag?
A seafood boil bag is a mix of your favorite seafood, popular sides such as corn, potatoes, eggs and sausage, steamed and tossed in one of our 5 delicious seasonings at a spicy level to your liking. Gloves and a bib is all you need to enjoy a seafood boil bag!
What do you offer besides Cajun seafood?
On top of Cajun style seafood we also have a large selection of fried baskets and wings with many flavors to choose from.
Do you take reservations?
Yes, at The Twisted Crab, we gladly accept reservations. To schedule your reservation, please contact your preferred location directly, and our team will be more than happy to assist you in securing a table for your desired date and time. We look forward to serving you a delicious seafood experience!
Do you have vegetarian, vegan, or gluten-free options?
We currently do not offer specialized vegetarian, vegan, or gluten-free dishes on our menu. Our primary focus is on seafood cuisine, and nobody does it better. However, we do apologize for any inconvenience this may cause and appreciate your understanding.
Can you accommodate large groups?
We are more than happy to accommodate large groups with some advanced notice. To ensure a seamless dining experience for your party, please contact the location directly, and our team will assist you in planning and scheduling your visit. We look forward to hosting your group and providing an unforgettable seafood experience.
Do you have a kid's menu?
We offer a variety of fried dishes that children often enjoy. We look forward to welcoming you and your family to our restaurant!
I just ordered take out and there is a mistake in my order. Can you fix it?
If you encounter any issues with your takeout order, please contact the restaurant immediately. Our team will promptly assess the situation and determine the best course of action to resolve the issue and ensure your satisfaction. We value your patronage and are committed to providing you with a fantastic dining experience.
Are your restaurants handicap accessible?
All of our locations are handicap accessible. We strive to create an inclusive and welcoming environment for everyone, ensuring a fantastic seafood dining experience for all our guests. We look forward to hosting you at our restaurant soon!
Are you on any food delivery apps?
Absolutely! Our restaurant is available on popular food delivery apps such as GrubHub, Uber Eats, and DoorDash. We understand the importance of convenience for our customers and strive to make our delicious seafood easily accessible to you. Enjoy our dishes in the comfort of your home by ordering through your preferred delivery app.
Can I order online and pick up?
Yes! Just visit our locations page and choose the location you desire and place your order online directly. You can also find other useful information on our website such as business hours, store addresses and specials deals that are available.